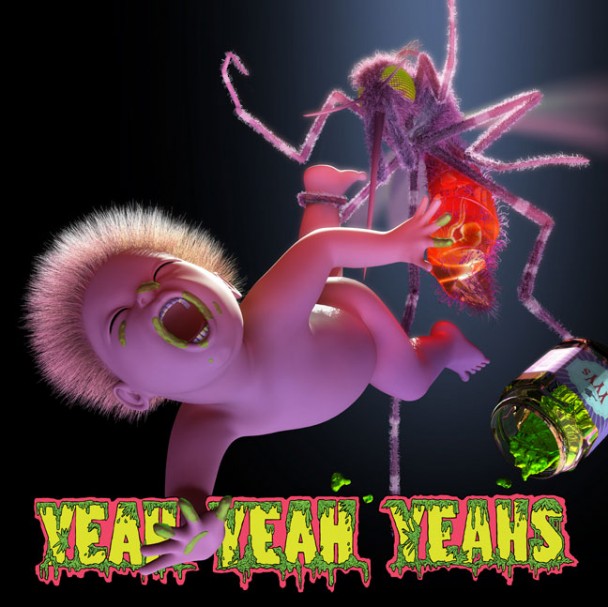 Yeah Yeah Yeahs' mark the run up to their new record Mosquito, due on the 16th April, with this revoltingly ostentatious album artwork. Designed by short filmmaker/animator (check out his wonderfully surreal award-winning short 'The Wonder Hospital') Beomsik Shimbe Shim, an indigo baby replete with gaudy hair is attacked by a mosquito with a lucid abdomen, underneath which lies the phantasmagoric font that is strongly reminiscent of those old Goosebumps book typefaces. I could just be a weary old cynic but could the awfulness of the artwork just be a shock tactic to swell publicity? Whatever, the most eclectic dressing band around are certainly getting noticed.
Overshadowed by the cover art is the 59-second trailer for Mosquito which reveals Karen's platinum blond hair and promises a more guitar focussed record and a lo-fi approach hailing back to their first two albums Fever To Tell and Show Your Bones. David Sitek returns to produce for the New Yorkers once again, along with James Murphy who does one of the songs.
Here is the trailer for Mosquito which will be released in the UK by Polydor Records.
Discover Yeah Yeah Yeahs: Official // Facebook // Last FM
By Barney Horner
Dance Yrself Clean