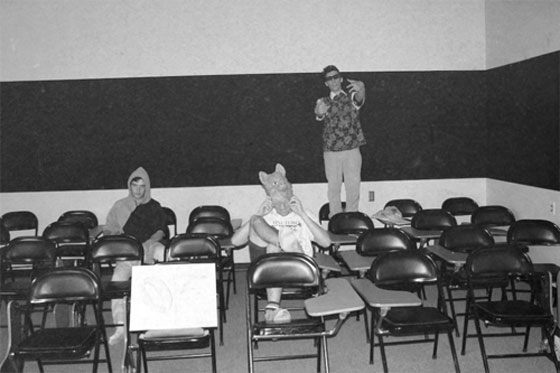 Greetings traveller, today I introduce you to the most badass jazz group around. BADBADNOTGOOD are a jazz-fusion trio from Canada. But unlike past jazz fusion bands, BADBADNOTGOOD are heavily influenced by hip hop. Most of the songs they've put out are covers from famous hip hop artists such as Gang Starr, Nas and Tyler, The Creator . They create a new and fresh jazz sound. It appeals to a modern audience combining hip hop beats and electronic sounds that really makes them stand out compared to the "50 year old crap, of Coltranes Giant steps" to quote their drummer Alex Sowinski.
The trio have put out mix tapes, live albums and a single since their debut in 2011. Their first appearance was a youtube video entitled 'The Odd Future Sessions' in which they covered some Odd Future tracks with intense build ups and climatic hooks, which eventually led to a collaboration with Tyler. Unfortunately they could have done without it.
Though their previous releases have been mostly hip hop based, they have proven themselves with covers such as 'Limit To Your Love' by James Blake or songs from The Legend Of Zelda: Ocarina Of Time, showing that they are more than just hip hop enthusiasts.
BADBADNOTGOOD's songs are a hybrid of soft and upbeat keys, heavy and lumbering bass lines, and strong beefy drums that fuse together into a sound that would have you moshing at one of their gigs, which is a rarity at jazz clubs.
If you're still not convinced, why not download one of their albums seeing as how everything they've put out is not only refreshing but also free. So there's no excuses for not checking them out. You won't regret it.
Discover BADBADNOTGOOD: Facebook // Official Website // Bandcamp
By Eoin Mc Namee
Dance Yrself Clean