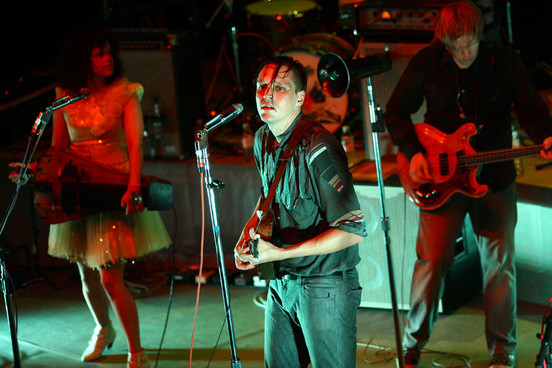 Next August will mark the third anniversary of The Suburbs, the album that gave the Arcade Fire their final push into becoming a household name. With this newfound success the triennial event of an album from the Canadian art-rockers rallies even more pressure on their fourth LP, which is by tradition due for release within the next year. Of course we are kept as much in the dark as during the launch of a new Apple product. However, amateur footage has emerged of Win Butler and co. performing a never-before heard song called Crucified Again – naturally causing the MacBook-owning hipster-sphere to drop their soy milk in excitement.
'Crucified Again', in essence, sounds like a B-side from the Neon Bible sessions. "Preachers talk on television/hand out the judgements of their religion," sings Butler to the background of a low chamber organ, sedated electric guitar and high violins. Thematically, it is self-explanatory and nothing new. Nevertheless, the treat lies in the gorgeously engrossing melody (reminiscent of the band's buddy Bruce Springsteen) as it juxtaposes the dark subject matter in a way only the Arcade Fire can achieve. Their debut LP Funeral is the epitome of such a technique. As the instrumentation builds up towards the end we are given the final blow that reminds us of the band's power.
But despite the song's seductive and enthralling undercurrent, Win Butler's lyrics fall somewhat under the mark of his usual standard of subtlety. "All you brave and mighty nations." Though provocative, they lack the potency that characterises many of Arcade Fire's classic songs.
Despite its miniscule flaws, this song is a grower. That is the genius of the Arcade Fire – the arena-sized grandness is there, but it never falters once the song is over and the crowd has dispersed. Much is the same with their more sedate offerings such as Crucified Again, which improves the more it is attended to. The band has hinted that this song won't end up on their fourth album; however, if it signifies what is to come we should expect good things.
Discover Arcade Fire: Official // Facebook // Twitter
Sam Warner
Dance Yrself Clean