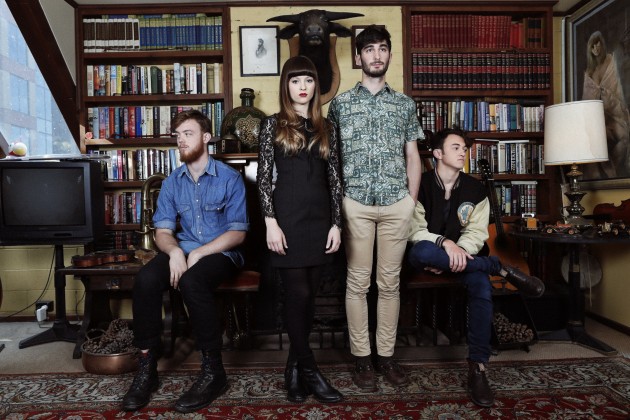 I last saw San Cisco in March of this year on their first UK headline tour (read the review here) and so I went into this show not really knowing what to expect from the guys. Since then the Aussie four-piece have played an astounding amount of shows capped off with a multitude of festival appearances including well received slots at Reading and Leeds. Unlike the last show I went to this one at The Scala was a sell-out which if anything indicated that the band are definitely gaining popularity.
First up was London trio White Fever, who only played their first ever show a little over a month ago, meaning they could be forgiven for the occasional timing issues. When it was right, it was good. The singer boomed her powerful wailing vocals over grunge-esque chords. Think Nirvana meets Gwen Stefani. Yes, it was just as interesting as it sounds.
Next on stage was F.U.R.S who have been making waves recently and tonight showed they have the live show to match. Elle Wade exudes everything needed to be the perfect front woman: sweetness, charisma, a misplaced sense of modesty and most importantly a fantastic voice.
San Cisco took to the stage and launched straight into Lyall. From the off it was apparent that in these last 8 months their musicianship has greatly improved without sacrificing any energy or exuberance that they put into their performances.
Despite the fact that on record it is one of the band's weaker songs, Reckless is a live highlight. Made more grandiose by employing the whole band, the song was transformed into what could almost be described as a punk track with its accelerated tempo and heavily distorted power chords.
Then came the big hitters. Awkward, Beach and Fred Astaire sent the crowd into a flurry of ecstasy punctuated by hand claps and the deafening roar of approval. The set was finished off with an encore which consisted of a cover of Daft Punk's Get Lucky before being definitively concluded with No Friends.
So what has changed in 8 months? Well, quite a lot to be fair. The fan base is growing and as a band they appear much more proficient and at home in a live setting. Last night saw witness to a band growing in confidence and using this to excel. Who's to say where they'll be in another 8 months from now?
By Conor Giles