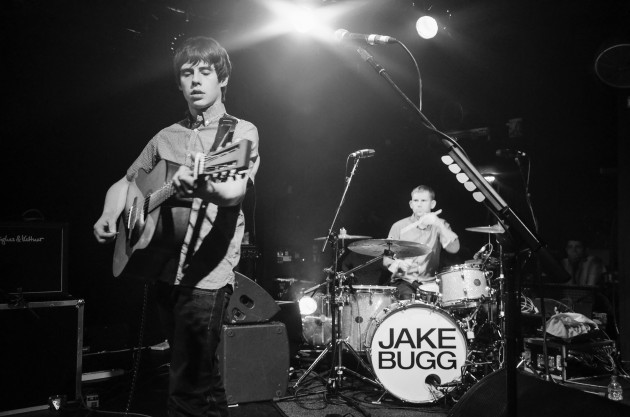 "Something is changing, changing, changing" sings 18 year old troubadour Jake Bugg on hit 'Two Fingers'. Whilst this isn't strictly true (Bugg's brand of Dylan-inspired folk rock is tried-and-tested), it is refreshing for someone so young, so talented and so quintessentially British to be at the high table of British music.
Adoring girls and men in parkas with terrible sideburns pack into Birmingham's HMV Institute, a wonderful classic academy-sized venue with high patterned roofing and balconies full of beer-swilling people. They are all here to see Jake Bugg, the lad who has turned himself from council estate wastrel to bona fide pin-up. Despite all he has achieved in the last twelve months, he remains resolute in his personality. Shy, awkward and unsuspecting, he shuffles on-stage and barely bats an eyelid to the raucous cheers.
Opener 'Fire' (a song recorded on Bugg's iPhone) is a lovely little ditty about girl-leaves-boy and Bugg smiles as he announce "Evening, Birmingham" in that familiar, weed-induced Midlands drawl. 'Trouble Town' proves itself to be a Donovan-meets-Definitely Maybe number with tales of Clifton and "being stuck in speed-bump city where the only thing that's pretty is the thought of getting out". This is the first time we see Bugg's quality guitar-picking, a remarkable skill which has shone recently in his live lounge cover of Oasis' 'Slide Away'.
'Seen It All' follows with wistful reminiscing of taking pills, crashing parties and seeing someone get stabbed. "Had to admit I felt a little out of place" sings Bugg, but you get the sense this could not be further from the truth. He looks remarkably at ease on-stage playing to thousands, chipping in with odd comments and playing guitar as if he's back in front of his mates in Nottingham. Granted, the stage presence isn't astonishing and he awkwardly thanks the audience. However, Bugg wouldn't have it any other way. There's no need for pyrotechnics when you can make easily accessible songs with a mere acoustic guitar.
"This is a new one" Bugg tells the crowd before launching into 'Slumville Sunrise', a loud and pacy rock number which is certainly heavier than anything he has done to date. It's reminiscent of The Black Keys musically, but Bugg's voice rises above the noise. His voice is flawless all night, making tracks sound just as tight as they do on his debut number one record. 'Country Song' is a beautiful, lighters-in-the-air centrepiece which draws the biggest sing-a-long of the night (due to it being his oldest song, probably).
It's the final three songs where Bugg really shows his steel, though. You may think leaving his trio of hits until last would make the rest of the set slow and unremarkable. It's exactly the opposite. Bugg compels the audience with every strum and note, and he consolidates it all into a brilliant finale. 'Two Fingers' is huge and anthemic already despite its lifespan being barely six months, whilst 'Taste It' leads to the biggest crowd movement of the night. 'Lightning Bolt' is now familiar to all and sounds strong, book-marking a fantastic final ten minutes and the whole night in general.
The encore includes the beautiful lovelorn ballad of 'Broken' and an atmospheric closer of 'Folsom Prison Blues' (a cover of Johnny Cash). "Cheers for coming" he tells the crowd before departing. "We love you Jake" is screamed by some middle-aged overweight gentleman from the balcony before he spills his lager down the seat in front. What he says is right, though. This particular 18 year old connects and truly matters to people. It's great to have him.
Discover Jake Bugg: Official // Facebook // Twitter
James Daniel Rodger
Dance Yrself Clean