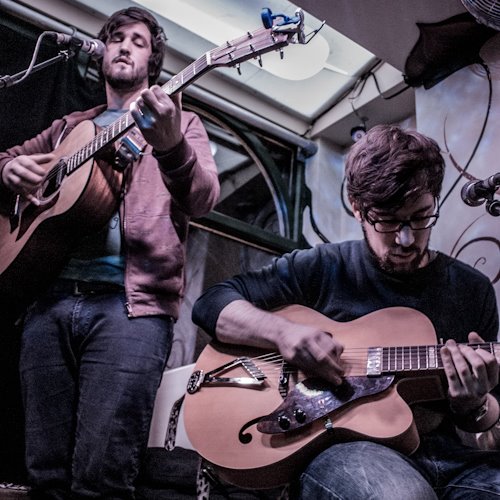 Immediately I can see why one of Delve's listed influences is Bon Iver. Although, whether that's a reference to their music or their impressive facial hair, I can't decipher. Either way, I like it.
Originating from the west country, Delve are now based in London, and already taking over such places like Brick Lane and Camden (hint: that means they're cool). With just the two members, Jack Cox and Andy Vyse, there's immediately an authentic feel to their music. Between the delicate rhythms and the compassionate but strong lead vocals of Cox, the mellow, acoustic atmosphere is enough to make you melt. Yet at the same time they miraculously seem so down to earth and relatable.
Delve's repertoire is still developing and each time I listen to their collection, a different song is my favourite. I may be flighty with my preference of songs, but one thing I can count on is that I won't be so indecisive with Delve as a band. There is much more coming from these crafty boys – something tells me they've concocted a perfect potion of enthusiastic followers and sincere music. A potion that I'd rather like to drink in the summer sun (I like to think Delve's potion would be cider. An ideal combination).
I recommend 'Get Me To The Morning' and 'Deer and The Gun'. Delve will be at Bestival. If you're going, check them out on Saturday 8th September.
Discover Delve: Soundcloud // Facebook
Kirsten Powley
Dance Yrself Clean