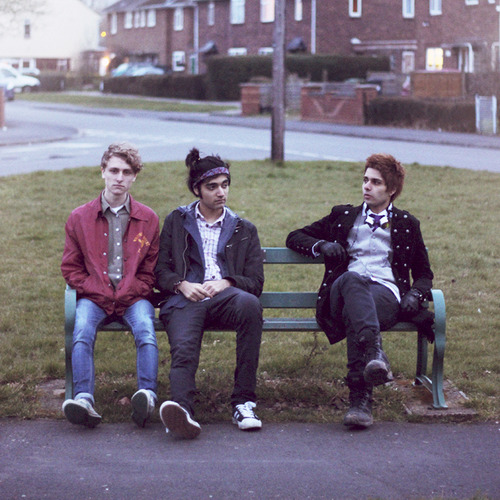 As the frost starts to melt and the winter months slowly turn themselves into spring time, the familiar sound of lo-fi reverb begins to quietly hum getting louder and louder until the sun decides to make it's regular appearances rather than maintaining it's usual existence as something of a rare phenomenon.
With all the recent attention that the musical talent of the Midlands has been receiving, it's no surprise that it's creative surge has been getting stronger, and has provided a geographic platform for many other new bands to step on and get noticed.
"Back for the first time from the depths of my own beloved county", Exit Earth, in their own ambitious words have turned "wavves worship into garage pop magic." A band that although haven't said much yet, seem to have a lot that they want to say and with all their adolescent soul searching soundtracked by fuzzy guitars & catchy hooks, seem already to know exactly how they want to say it.
First track 'Brandon' is a testament to that, kicking in with an intro of powerchords of fuzzy sentimentality and a chorus that is apparently the indie equivalent to 50 cent going on about "poppin them thangs". So not only is it a great song but it like totally exudes teen angst and addresses the most important existential issues, like: do I fit in? Can I play guitar AND like rap music? Who am I? The only answers come in the bridge where all musical elements go full throttle echoing a cry of "BRANDON I'M NOT READY" before subsiding into a reluctant acceptance of the unanswerable
This contemplation of change runs straight on to single 'Collarbone' like a mystified lullaby of "the future" and through to 'Honey Drift' like a punch in the face from an angry ex-girlfriend. With relentless inquisition of "I don't know am I getting anywhere?"
The future of guitar music is constantly being poked and prodded and prophesied about; with six strings and an accessible limit of twelve frets, there's only so much that you can do with one that's 'revolutionary.' But on an album such as Heavy Eyes where poisonous lo-fi leaks out through spiky guitar riffs that actually seem to float effortlessly at such an energetic pace, it seems that there will always be room for those who actually know how to use one and what
they want to say with it.