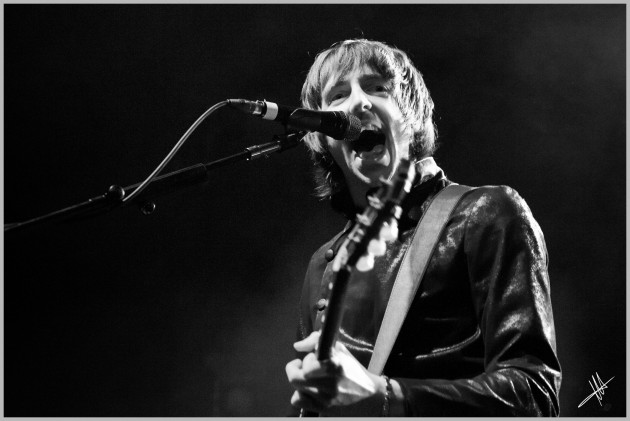 If Spinal Tap were to play a 2013 gig, you'd imagine it would take place in Bedford's Corn Exchange. As wide-eyed dehydrated teenage boys clutching cups of cider are filtering past weathered old men with perfectly kept grey-tinged mod cuts in the packed crowd, a fuse-box sparks on-stage and smoke fills the room. The scene is reminiscent of a black comedy, with a near-geriatric sound technician on-stage wearing a t-shirt with 'dickhead' emblazoned on it as he tightens the cymbals on Jay Sharrock's drumkit. Thankfully, once Miles Kane takes to the stage, all gimmicks are well and truly out of the window.
Clad in a tight-as-hell black leather jacket and even tighter-as-hell white jeans, Kane beckons the crowd to him with an obligatory "come on, then" before launching into 'You're Gonna Get It' (co-written with Paul Weller for his second record Don't Forget Who You Are). The track, in truth, sets a precedent for the whole night bar one or two anomalies: it's volatile, vintage guitar-rock which occasionally touches on glam and punk with no pyrotechnics or frills. 'Kingcrawler' follows (the track which is most evidently inspired by Kane's musical journey with The Last Shadow Puppets) in a display of primal urgency, before 'Rearrange' shows Kane's deft ear for crafting accessible pop hits.
The best track off Don't Forget Who You Are 'Better Than That' follows with its 60s-driven riff and effortlessly swagger. "I'm the first of my kind" Kane spits on 'First of My Kind', and whilst this isn't strictly true (Kane is not doing anything new), he is doing what he does very well. One of the main reasons for that is his sheer enthusiasm for the music he creates. He even says "it's great to be here" at one stage and despite Bedford being most renowned as the home of a marathon runner who couldn't control her bladder, the EDL and a type of pastry dish which comprises both meat and, er, jam, you get the impression he truly means it.
'My Fantasy' follows in a brief show of tenderness which displays a soft centre to Kane's exterior bravado before the "ba-ba-ba-da"'s of 'Quicksand' chime around the room cheekily. 'Inhaler' and 'Give Up' deliver what the audience turned up for and show Kane is at his finest when creating snappy firecrackers. In truth, there are a few bum notes. The new tracks off Don't Forget Who You Are fail to transcend due to the fact it's only been out a mere week, with 'Taking Over' being unremarkable tonight and 'Darkness In Our Hearts' seeing both the crowd and Kane slipping back a gear.
That is pedantic, though. When Kane shines tonight, he really shines. There may be a lack of communication between the Wirral Riddler and the crowd, but they are always on the same wavelength. Never is this more evident than 'Counting Down The Days' where Kane somehow manages to encapsulate a fallibility with emotional resolution. 'Come Closer', too, is suitably massive and shows that Kane has one of the finest backing bands in the country behind him. Jay Sharrock's drumming ability is innate – he hits skins effortlessly and becomes the focal point of Kane's band.
A moving rendition of 'Colour of the Trap' follows with Kane lamenting "your exit calms me down, before it infuriates me" before the band re-join him for an outing of his latest single 'Don't Forget Who You Are'. The track is hardly Kane's most impressive but it does little to sap the energy and, when the crowd disperse a few moments after, they are still arm-in-arm chanting "la-la-la!".
Kane has had an odd week. Following a glorious support slot with The Stone Roses playing to five figures of people (which he enthuses was "boss!" to me outside afterwards), Kane once again finds himself playing to a packed-out backstreet venue in a backwater town. "This tour has been mega, man", he tells me, "and the song's seem to be connecting". He skips over my probing about when we can potentially hear another Last Shadow Puppets record and is is no surprise. Kane is seemingly at ease with where he is at right now. At 27, he has seen two of his bands implode but now seems to hitting his stride. When Kane is on form (as he was tonight) you would be a fool to bet against him. He strides off in his tight-as-hell white jeans to a car and he is off into the night towards another venue packed with grey mod-cuts and cider-drinking teens and another backwater town and another explosive evening.
By James Rodger
Dance Yrself Clean