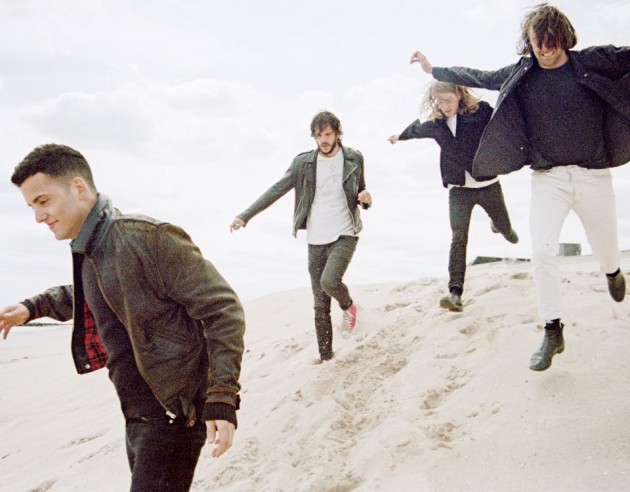 The Vaccines are back with their third single from their recent second album, Come Of Age. Directed by Jesse John Jenkins and featuring only Justin Young and none of the other lads, while the track itself is familiar anthemic choruses and dirge-y vocals, the aesthetics are pleasingly guileless.
Jesse John Jenkins keeps his shot types simple (close ups of Justin and Blonde Lady, as well as aerial shots of the ride) means that the video's narrator path is very straight forward. Essentially, Justin and his lady-friend, both sporting black hats (J's features a rather lovely bear), go on a spinning funfair ride thing. It looks as if they're having the worst date in the world. There is absolutely no fun. After a while the ride and the chemistry really kick in, and with some hat-based flirtation it's hard to see how this could possibly go wrong. Then Justin begins to look like he might be sick, and lady-friend looks increasingly fed up. Lady-friend is Dree Hemingway, great-grandaughter of Ernest Hemingway. The moral here is clear; if you're ever on a ride with the descendent of a literary great, three and a half minutes is just too long and they'll get pissed off.
On a serious note, we at DYC are very worried about The Vaccines' Dog, who, having featured prominently in both 'Teenage Icon' and 'No Hope' is notably absent from 'I Always Knew'. He looked like he would have loved a fun park too. Fears that a sacrifice has been made to ensure Young's hair maintains its glossy finish are rife. Should the dog not appear in the next video, we may have to boycott all talk of the band.
Despite some glaring continuity errors (sorry Jesse), it's a nice moment. And the B-side to the single was written and is sung by drummer Pete Robertson, so that could be interesting.
'I Always Knew' is available via iTunes and on 7" (either too alternative for CD, or forgot about it in the press release, we don't know) November 11th.
Discover The Vaccines: Official // Facebook // Twitter // Myspace
By Maddie Russell
Dance Yrself Clean