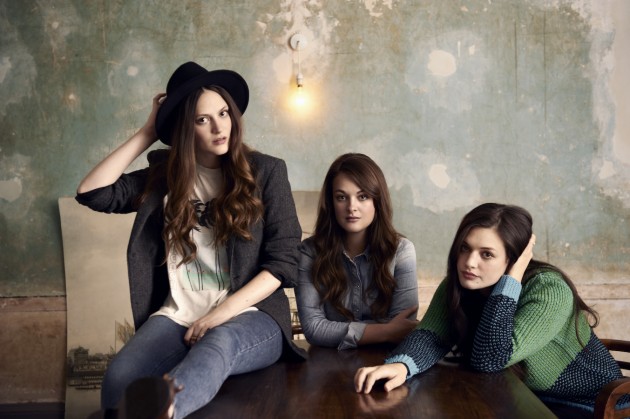 What links Lucy Rose, Band Of Horses and The Staves? Apparently a fondness for Stetsons and that whole 'Cowboy' style. Old school Western cinema is the key influence on this latest video from the trio of siblings from Watford (and apparently all the cool videos this autumn).
The narrative video sees the girls as the protagonists who must overcome the antagonist (a middle-aged man who does not do well out of the situation). The implications of well-placed cuts means violence is suggested but never seen; the cross-cut between the antagonist fella's big ring and a rather unattractive scar on Jessica's neck shows why they're pissed off at him. The later cut between the girl's besting the chap's heavies and leaving the bar implies that the ring now being worn around Jessica's damaged neck wasn't a gift.
The slightly disjointed editing between the girl's actions and the responses of their foes has a slightly unfortunate GCSE media project-esque outcome. The video doesn't quite have the level of serious drama it seems to be striving for, yet it doesn't play up its quirky style as much as Lucy Rose's recent bar brawl laden video for Bikes. If the cuts were more off than they are then the video could seem more of a deliberate genre parody of poorly edited Western cinematography of bygone years. This doesn't quite come across, however. It definitely looks like it would have been enjoyable to film, though.
The track itself features the same beautiful harmonies we've come to expect from the Staveley-Taylors. The girls' voices fit so entirely perfectly with each other (a result, no doubt, of the fact they have been singing together all their lives) that it would be hard to imagine one of the sisters singing without the others. Despite its visual short comings the video is still pretty endearing, the concept is strong, and the juxtaposition between the rises and falls in the harmonies and the violent imagery is certainly interesting.
The Staves debut album Dead & Born & Grown is available to preorder now for release November 12th, and the trio are touring November.
Discover The Staves: Official // Facebook // Twitter // Myspace
By Maddie Russell
Dance Yrself Clean