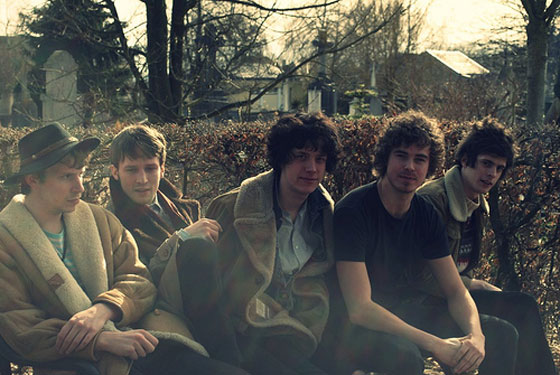 Meet Natas Loves You. They're a band of young internationals that moved from Luxembourg to Paris in the search of wider horizons and they've just released they're debut video.
They're a five piece that consists of Alan Quinn (vocals), Virgile Arndt (bass, vocals), Pierre Hadrien Trigano (synths and keyboard, vocals), Joachim Masson (guitar) and Joonas Jaatinen (drums). The band are steadily building up a loyal fan base in the city of love and lights with the retro, groove infused pop music that they play. So far, they've released two EP's. From Natas With Love came out in 2008 and it's successor, Paintings was released in March of 2011. Between the two Ep's there is a definite, noticeable progression in their music from a more 60's, rock and roll influenced vibe to a dancier, poppier and distinctly grander kind of feel. If you're into your 60's music though, don't despair, there's still a clear remnant of that original influence, in the Beatles and Beach Boys-esque harmonies that the band use in their music.
The songs on From Natas With Love don't regularly feature in the band's live shows. Indeed Paintings is definitely a more adept platform upon which to judge the band. It's a five-track E.P of contrasts that moves from the hauntingly grand and poignant 'Blue Spectre' that draws comparisons to Beach House, to the driven, escalating pop music of 'Golden Fog'. The record's tempo then takes a dip again for the tranquil and beautiful 'Jerusalem' that showcases the band's capacity to employ magnificent harmonies perfectly. The last two songs on the record are both higher-tempo pop tracks, the string quartet adorned 'Scarlett Brown' and the irresistibly dancey – and perhaps highlight of the record – 'Zeppelins'.
The summer of 2011 saw the band retreat to a chalet in the Vosges Mountains in France to record their first album The Eighth Continent and it is due to be released at some point in the near future. No doubt, some progression in their sound will be present again. Tracks to look out for are the groovy and addictive 'Skip Stones' and the video track 'Light as Air'.
"The video is inspired by 80's gang aesthetics and exploitation cinema. It's a short story about how the escalation to violence can make you forget what brought the violence in the first place" It sees the band as a gang, all adorned in denim jackets and hoodies cavorting around Paris in conflict with three other gangs, a gang of fur coat straddled youths, a quirkily suit adorned gang and a gang of black cloak-clad mystical women. The entire cast is made up of the band's friends and it looks like it was a lot of fun to shoot. In the song, Alan sings the prophetic lyrics, "You've got to hold on to the heartbeat of the world", echoing the video's message and providing an incredibly catchy chorus.
Essentially, Natas Loves You are band of cool and stylish talented musicians that make good music. I suggest you check them out.
Discover Natas Loves You: Bandcamp // Facebook // Soundcloud
By Thomas Clarke
Dance Yrself Clean