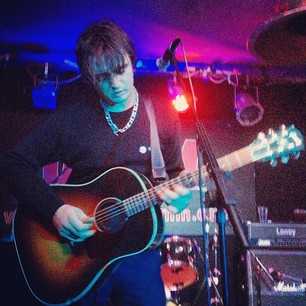 December 2012 isn't an ordinary month for legendary icon and Libertine Peter Doherty. It's the final month before what is, probably, the most crucial year of his musical career since he burst onto the British music scene bedecked in military jackets and ripped leather ten years ago. Having not released any music for almost four years it would be hard to argue with the view that many critics subscribe to regarding his notorious drug problems: Pete Doherty is turning into a junkie with a music problem, rather than vice versa.
That said, the signs from Doherty's camp are promising. He has moved to Paris to clear his head and "have a clear run" at getting off gear. He's also starred in a fairly terrible movie (Verhyde's 'Confession of a Child of the Century') with his mistress (and daughter to French legend Serge) Charlotte Gainsbourg. Work for a new solo album and new Babyshambles record are in their early stages with Doherty sharing lyrics with Drew McConnell. Tonight, however, is all about Pete. He plays two sets, the first of which is reviewed here, to a five hundred-strong crowd comprising entirely of believers in Albion.
Entering the stage a little bit late and a little bit ruffled, Pete's surprisingly with it this evening. He strums along merrily to Libertine hits 'Music When The Lights Go Out' and 'The Good Old Days', the latter of which contains the message "if you've lost your faith in love and music, the end won't be long". Judging on tonight, there's no reason to lose your faith in Bilo. He bounces off the crowd's energy brilliantly, with tonight's gig being the most rowdy acoustic gigs any of the crowd have ever witnessed.
"Who can play 'Don't Look Back Into The Sun'?" he asks the crowd leading to an explosion of noise, people pointing at their friends and boys clambering for Pete's guitar before Doherty smiles and adds "…on harmonica". 'Time For Heroes' (with the changed lyric of "there are fewer more distressing sights than that of an Englishman in a Santa Claus hat") and 'Don't Look Back Into The Sun' then both feature with an atmospheric guitar solo in each before he covers The Strokes' 'The Modern Age'. 'What A Waster' is a surprise inclusion given the acoustic nature of the gig, but an entirely welcome one. The crowd's shouting eclipses Pete's voice for the majority and it leads to shoes, cups and human beings getting thrown around the room.
People aren't just here to hear Libertines songs, though. 'Baddie's Boogie' is one of the best songs of the night with Pete's scream of "it's a lousy life for the washed-up wife of a permanently plastered pissed-up bastard" being worth the entry fee alone. 'Beg, Steal or Borrow' is a brilliant performance, too, and it emphasizes the fact that Pete has always been better performing that particular song solo rather than with Babyshambles' full band.
In truth, it's disappointing Pete lifts little material from his 2009 solo record Grace/Wastelands, which is his best collection of songs since The Libertines' eponymous second album. That's an unfair criticism, though, as he is playing a second set not half an hour later. As it stands, Pete Doherty is back in London and has just played a wonderful Christmas homecoming. "You're lucky I turned up at all" he jokes after finishing set-closer 'Can't Stand Me Now'. The crowd laugh, but there's a realisation which comes with it. Pete has become famous through his unpredictability and irresistible mythology, but he needs the fans as much as they need him. Next year there needs to be new music from him. Not just for his fans. But for himself, too.
Discover Pete Doherty: Official // Facebook
James Daniel Rodger
Dance Yrself Clean