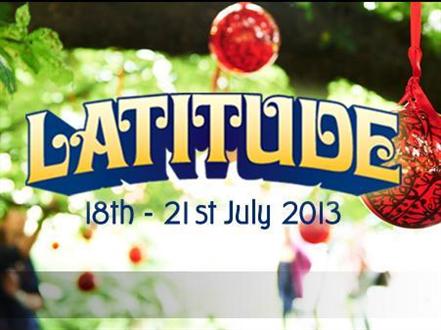 The first lot of acts have been announced for Latitude Festival 2013. Headline sets will come from Bloc Party, Foals and Kraftwerk (who are supposedly playing a 3D set, which we are very excited for).
A host of other acts are set to perform at the festival including Yeah Yeah Yeahs, The Maccabees, Modest Mouse, The Tallest Man on Earth, White Demin, Alt-J along with many more.
As well as the musical acts, a wide variety of other pleasures that Latitude has to offer have also been announced, including comedy, poetry, art, and cabaret.
The Children's arena also returns to the festival which was recently voted the best family festival.
Latitude Festival 2013 will be held between 18th-21st July in Henham Park, Suffolk. Tickets are now available, and can be purchased here
OBELISK ARENA
 BLOC PARTY | KRAFTWERK 3-D |FOALS
THE MACCABEES | HOT CHIP | YEAH YEAH YEAHS
BBC RADIO 6 MUSIC STAGE 
MODEST MOUSE | ALT-J | BEACH HOUSE
EXCLUSIVE  APPEARANCES FROM: 
CALEXICO | COCOROSIE | IAMAMIWHOAMI | MARK LANEGAN BAND | RHYE | SOHN
THE TALLEST MAN ON EARTH | WHITE DENIM | YO LA TENGO AND MORE
PLUS: AKRON/FAMILY | BASSEKOU KOUYATE & NGONI BA | BENJAMIN FRANCIS LEFTWICH
BETH ORTON |BO NINGEN | CAT POWER | CHVRCHES | CLEAN BANDIT | DAN CROLL
DARK DARK DARK | DAUGHTER | DISCLOSURE | DRENGE |EVERYTHING EVERYTHING
 EFTERKLANG | FIMBER BRAVO | FRIENDS | HOOKWORMS | I AM KLOOT | JAGWAR MA
JAMES BLAKE | JAPANDROIDS | JESSIE WARE | JOSEPHINE | KING CREOSOTE | LAURA MVULA
LOCAL NATIVES | MALCOLM MIDDLETON |MARIKA HACKMAN
MATTHEW E. WHITE | MIKHAEL PASKALEV |MOON DUO | MÚM |PURITY RING
RACHEL ZEFFIRA | SERAFINA STEER| SINKANE | STEALING SHEEP | STEVE MASON
SWEET BABOO | SWIM DEEP | TAMIKREST |TEMPLES |THE 1975 | THE BOTS
VERONICA FALLS | VILLAGERS | WAVE MACHINES
WIDOWSPEAK | WILLY MASON | YOUNG WONDER
COMEDY AT LATITUDE
 DYLAN MORAN | DANIEL KITSON | SEANN WALSH | TIM KEY| LEE NELSON
JOSH WIDDICOMBE | MARCUS BRIGSTOCKE's POLICY UNIT | MARK WATSON
CHARLIE BAKER | THE HORNE SECTION | JAMIE KILSTEIN | KERRY GODLIMAN | KATHERINE RYAN SIMON EVANS | SARA PASCOE | JAMES ACASTER | JOEL DOMMETT | BRETT GOLDSTEIN
MARCEL LUCONT | ROMESH RANGANATHAN | ELIS JAMES | THE NOISE NEXT DOOR
TIFFANY STEVENSON | IDIOTS OF ANTS |HENNESSY & FRIENDS | LORETTA MAINE
THE SUNDAY ASSEMBLY | HOLLY WALSH | LUISA OMIELAN | ED ACZEL | SHEEPS
BRYONY KIMMINGS |DANIEL SIMONSEN | VIKKI STONE| MCNEIL AND PAMPHILON | ALFIE BROWN
SAM FLETCHER | PAT CAHILL | MAE MARTIN | LUCY BEAUMONT | RICH & ANDY
BEN TARGET | ANDREW RYAN | NISH KUMAR | CHRIS KENDALL | DAVID TRENT
  JENNY FAWCETT | HOLLY BURN | JOHN ROBINS | SUZY BENNETT | AISLING BEA
TOM DEACON |ED GAMBLE |ROB BECKETT | JOE LYCETT | MATT REES | AUSTENTATIOUS
CHORTLE STUDENT AWARDS | MONSTER COMEDY SHED
MORE ACTS AND VERY SPECIAL GUESTS – TO BE ANNOUNCED
THEATRE AND DANCE
NATIONAL THEATRE WALES AND NEON NEON | SADLER'S WELLS PRESENT 'ROCÍO MOLINA'
DANIEL KITSON |  ROYAL EXCHANGE THEATRE|  OCKHAM'S RAZOR
NATIONAL YOUTH THEATRE | BAC | MADE IN CHINA | FOREST FRINGE | CLEAN BREAK
THE WRONG CROWD | PEEP | DRYWRITE | CURIOUS DIRECTIVE
THE PLEASANCE |FUEL |ARWC |DANCE EAST |DIRTY PROTEST | DANIEL BYE | BOO DWYER
LYRIC HAMMERSMITH, GREENWICH+DOCKLANDS INTERNATIONAL FESTIVAL, WATFORD PALACE THEATRE AND LATITUDEPRESENT RASH DASH,  TANGLED FEET,  PIN THE TALE,  PINS & NEEDLES
ARTISTS
DAVID SHRIGLEY | ALAN MOORE & MITCH JENKINS| TIM WALKER
THE NATIONAL GALLERY PRESENT 'TITIAN ON TOUR' | DAVID SHILLINGLAW
FILM AND MUSIC
DANIEL KITSON FILM PLUS Q&A | JEFFREY LEWIS & THE RAIN | ICA PRESENT BOWIEFEST
REVEREND BILLY & THE CHURCH OF STOP SHOPPING | SNARKY PUPPY | CROOK AND FLAIL
ULTIMATE BOWIE |GAVIN OSBORN | TOTAL FILM Q&A
POETRY ARENA
CAROL ANN DUFFY | MURRAY LACHLAN YOUNG | LIZ LOCHHEAD
THURSTON MOORE |DANIEL KITSON & GAVIN OSBORN |DON PATERSON |MICHAEL ROSEN
LUKE WRIGHT | ROSS SUTHERLAND | TIM CLARE | THE ISLANDERS | JOHN OSBORNE | STEVE ROGGENBUCK
APPLES AND SNAKES | DEAD POETS |KATIE BONNA | POEJAZZI | BYRON VINCENT | INTENSI-T
TIM TURNBULL | CAROLINE BIRD | HOLLIE MCNISH | WILLIAM LETFORD | JO BELL | MIKE GARRY
LITERATURE
GERMAINE GREER| JONATHAN CAINER | JEREMY DYSON| WORDTHEATRE
ROBIN INCE's 'DIRTY BOOK CLUB' | SALON LONDON | THE LAST TUESDAY SOCIETY
TRACEY THORN | WILL STORR | JOHN TAYLOR | MATT HAIG | DAWN O'PORTER| IAN ROBERTSON
BEFORE THEY WERE FAMOUS |FESTIVAL OF THE SPOKEN NERD WITH HELEN ARNEY AND STEVE MOULD
SELFMADE HERO: GRAPHIC NOVEL DISCUSSION WITH GLYN DILLON, JOFF WINTERHART, CORBAN WILKIN
CHAIRED BY TOBY LITT
CABARET/LIVE ART
 CARNESKY'S TAROT DROME
BOOM TISH CABARET | BOOGALOO STU | FANCY CHANCE | BORIS & SERGEY | SWING PATROL
ARTWANK | EGGS COLLECTIVE | RICHARD DEDOMENICI | BRIAN LOBEL
LATE NIGHT DJ'S
GUILTY PLEASURES | BUTTONED DOWN DISCO |SINK THE PINK | DISCO SHED