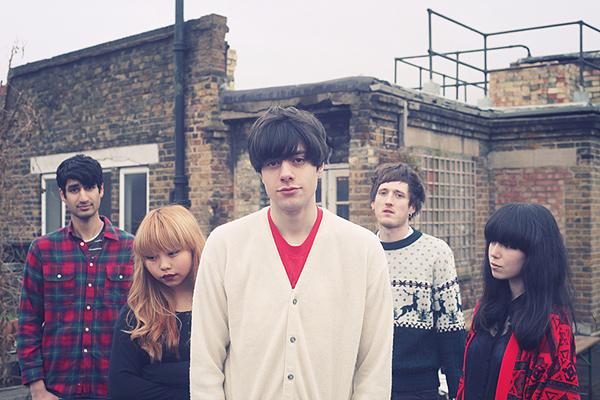 Today I serve you up a nice big slice of The History of Apple Pie (glass of milk optional). Stephenie Min (vocals), Jerome Watson (guitar), James Thomas (drums), Kelly Owens (Bass), and Aslam Ghauri (Guitar); all baked together to create The History of Apple Pie, or THOAP as their twitter name suggests, are a band signed to Roundtable Records and originate from London.
Currently touring around the country THOAP first caught my eye when they supported the Drums in Glasgow. Initially, I was just there for The Drums. I wanted their summery beats in my ears now and did not care much for the sickly sweet sounding name of the support. But when the band strolled on stage and I realised there was a female vocalist I was transfixed (I'm a sucker for a female vocalist, cue girl power peace sign pose a la Spice Girls). Their rough but upbeat harshness, especially on 'Some Kind' from the b-side of their EP You're so cool, transported me to another life where I was a moody teenager locking myself in my room (well, any other normal day really). Their entire set hooked me in and by the end I was begging for more. The Drums who? I downloaded their two current EPs You're So Cool and Mallory as soon as I got home and relived their live show by bopping around to the 4 newly purchased tracks the whole night.
The History of Apple Pie are continuing on – with tour dates reaching into June throughout England there is no stopping them! Quickly swayed from the initial reaction of their moniker, I have now warmed to the twee name, with their slacker rock style similar to Yuck and Veronica Falls. The History of Apple Pie are going to be a band that I'll keep going back to. Their debut album is due to be released this summer and this is one slice of pie you most definitely won't want to miss out on.
Discover The History of Apple Pie: Facebook // Myspace // Official Website
By Millie Gough
Dance Yrself Clean