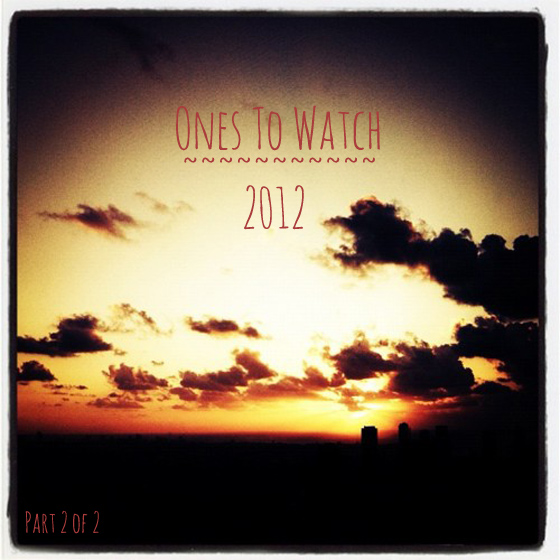 Forget the Christmas wish list. It's now 2012 and, representing the girls of DYC, Charlotte and I can't wait to get our hands on what the New Year has to offer. Here are a few of the tracks from our extensive '2012 Love List'…
---
Daughter
I am hoping and preying that 2012 will prove a successful year for Daughter. Although this recommendation isn't strictly new, as they released their last EP in October, these guys deserve more than just our ears here at DYC, because they're bloody breathtaking. Their four-track EP The Wild Youth-EP is beautiful, heartbreaking, beaty, and relaxed all at the same time, and I can't get enough of it.

---
A Fine Frenzy
I am eagerly anticipating the release of A Fine Frenzy's new stuff this spring. 24 year old Alison Sudol introduced herself and her highly girly vocals to the world in 2007 with her album One Cell in the Sea, and although presenting herself as the archetypal girly American singer-song writer up until now, she recently described her new music, saying 'people think that I'm all fragile and ethereal—and that's lovely, it's flattering. But I have a wild side too. I like to bang on things and cause a ruckus every now and then'. Well I can't wait to see this pretty blonde's 'wild side', so I'll be keeping tabs on Miss Sudol this year…

---
Gabrielle Aplin
This Nineteen year old is pretty raw at the moment, and although I haven't quite decided if I like Miss Aplin yet, I'm excited to see where 2012 takes her. Her EP Home is thoughtful and acquiescent, and, seeing as Gabrielle comes from the West Country like me, the track definitely hits home (excuse the pun). I'm just hoping that her childish vocals develop into something a little more commanding in the near future.

---
Michael Kiwanuka
And finally, the guy on everybody's radar. The soulful Michael, who has worked with Chipmunk and Adele, recently won the BBC's Sound of 2012 music poll, and I am now endowing this Cool Cat with massive DYC lovin'. His debut album Home Again was released in March under Polydor Records.

---
Ornament Tournaments
These guys are my personal favourites. If you like tender voices, twiddly guitars and tall beardy men then you'd love a cheeky bit of Ornament Tournaments. Recently, they've been recording in twee woodland areas, they've been recently featured in NME online, and write and tour in between breaks from university. Although this means there isn't a steady flow of music coming our way, the music that does come is nurtured carefully over time, how lovely.

---
Straylings
With a soulful, blondie-esque front woman and retro sounding guitars, kick back and enjoy Straylings. An alternative indie band based in London, they've been writing and recording sine 2007. Unfortunately, according to their Myspace page, they have no upcoming shows, but please do keep an ear out for new releases.

---
Lucy Rose
The oh-so-cute Lucy Rose. Well, she's just lovely isn't she? With the vintage-chic clothes, block cut fringe and beautiful, angelic voice, you just want to put her in your pocket. After recently touring with Bombay Bicicle Club (which some of the DYC Team went to see at UEA LCR), she developed her solo career, and for that I am so glad. Please please check her out on YouTube, you won't be disappointed.

---
By Hatty Farnham and Charlotte Cox
Dance Yrself Clean