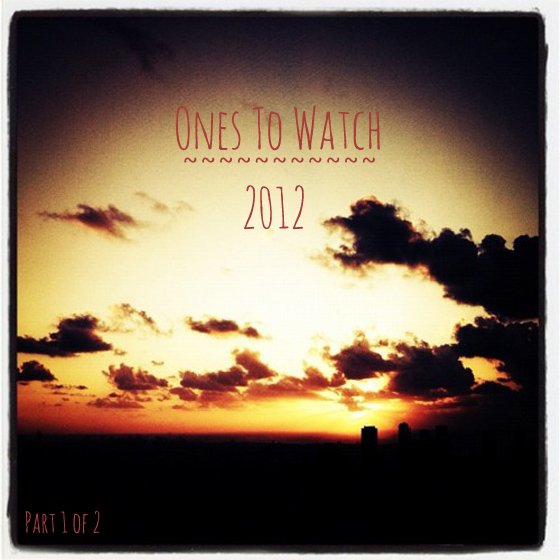 So I'm well aware that we're already four months into 2012, but this has been sitting in our drafts for ages just begging to see the light of day. Anyway today we offer up part 1 of Dance Yrself Clean's ones to watch for 2012 which includes six totally spiffing artists you can't afford to miss.
---
Keaton Henson
This guy is pure unadulterated genius. Need I say more? The second I heard the single 'You Don't Know How Lucky You Are' I knew I had found something special; I had nothing but this song on repeat for a week straight. Keaton's delivery draws you in unlike any other artists I've witnessed before, and whether you like this genre of music or not you would have to be a cold hearted bastard not to feel anything at all when listening to tracks such as 'To Your Health' and 'Party Song'.

---
Coo Woo
Word on the street is that it's actually pronounced Cool World. Well I never. You probably wont be able to find a great deal out about this band but they're pretty fucking amazing, it's just that the world hasn't realised it yet. Coo Woo released their debut album Love Exposure in early February, and my God is it a corker. It's definitely going to be one of my albums of 2012. Give songs 'Only Fooling' and 'Suck A Lemon' a listen – in fact give the whole album a listen and thank me later. Love Exposure is available for free download over on Bandcamp, so listen, get hooked then enrich someone's life by introducing them to Coo Woo.

---
Blondfire
For a band that's going to be big in 2012 you need look no further than the brother-and-sister duo Bruce and Erica Driscoll that make up Blondfire. While Blondfire have been on the scene for a while now, it's their recent releases such as 'Walking With Giants' and 'Where the Kids Are' that have really won me over. Their second album Win The Game is set to be released later this year and will no doubt be in every corner of the blogosphere upon its release.

---
DZ Deathrays
Since the rapid rise of Ed Sheeran and the rest of the New Boring, I've been calling like a wild ocelot for something dirty, something filthy, something a little bit rock and bloody roll. When I saw the infamous video for DZ Deathrays' 'The Mess Up', and the resulting chunder, I knew I'd found it. Sludge-tastic riffs, metal hair and a genuine DIY attitude, this pair are gonna tear up the world in the next few months and get laid a hell of a lot because of it. Check out 'Gebbie Street' and keep an eye out for their debut LP release, Bloodstreams, set to drop this year.

---
Alabama Shakes
If Alex Turner recommends a band, you don't just sack it off until the morning. You get straight online and you listen. Alabama Shakes have sent the hype machine into overdrive in the last year, clogging it up with pure rock 'n soul, and certainly not the sort you find in the local chippy. They sound sod all like anything else out there at the moment, which can only ever be a good thing – and the reason this is THE band to name-drop in 2012. Their debut album, Boys & Girls is due for an April 9/10th release.

---
Wyatt Overman
And now for something completely different… Wyatt Overman's Fires was brought to my attention by the excellent Crack in the Road blog, and has already sound tracked a fair few lonely nights of late. Overman's heart-breaking lyricism and honeyed delivery is a depth-charge to the soul, providing moments of beauty and clarity to rival For Emma, Forever Ago. High praise indeed, but this is folk that you folk need to hear in 2012.

---
By Luke Boobyer and Joe Abbitt
Dance Yrself Clean