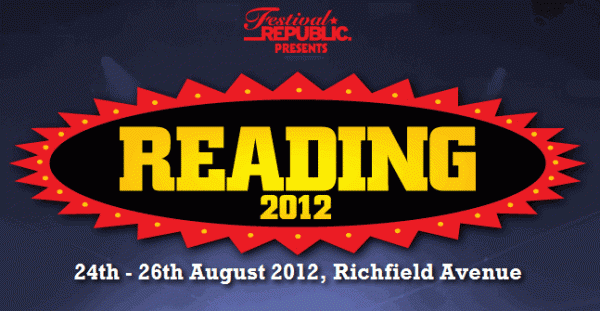 10. FRIENDS
Samantha Urbani cemented her place as the sexiest woman in indie on Friday afternoon as she and her Brooklyn band Friends took to the stage. Beneath the cute giggles and racy screams, though, Urbani urged the crowd to "think about mind control" and told the kids that there's more to life than school. 'I'm His Girl' was the set highlight and led to Urbani's hat being stolen. "I'm coming back for that" she said to some lucky, lucky boy.
Highlight: A perfect act to introduce the weekend in the NME/Radio 1 tent.
Lowlight: The crowd was, as expected, not big.
---
9. TRIBES
Johnny Lloyd and co. played the NME/Radio 1 tent on the Sunday at Reading, sporting their typical Camden uniforms of leather jackets and ripped black jeans. They showed why their debut album Baby has done so well and their songs proved that they lend themselves to festival crowds really well. Anthem of the set was, naturally, 'We Were Children', which saw Lloyd enter the crowd being idolised by children from the mid-nineties.

Highlight: Tribes declaring that the show was their career highlight, shortly before departing.
Lowlight: At times, Johnny Lloyd's singing sounds like a dog barking at a car alarm.
---
8. OFWGKTA
The meteoric rise of Odd Future was helped last year by their huge Reading Festival show which has gained a huge amount of notoriety. They repeated their weird and wonderful antics on the main stage this year. Left Brain grinded with security, Taco dropped a pill in front of a camera and Tyler urged people to join him on-stage. To re-create the atmosphere of last year they tried to get into the crowd, but their attempts were futile. Still, despite poor sound levels, the band caused carnage and led everyone to talk about them on Saturday.
Highlight: Left Brain grinding with a middle-aged female security guard.
Lowlight: Being cut off during 'Sandwitches'.
---
7. DJANGO DJANGO
Easily one of the highlights of the Sunday, Django Django got everybody moving in the NME/Radio 1 tent. The Edinburgh quartet are driven by close melodies and surf-pop guitars and it works incredibly well live. Their songs are utterly infectious and it was perfect for a summer's day. Their debut album is one of the highlights of the year and you get a sense that they will be invited back year after year, until eventually they can leap to headline of the stages.

Highlight: The band's matching t-shirts.
Lowlight: The crowd, again, being fairly small.
---
6. THE CRIBS
Wakefield's most famous brothers built on the success of their latest (and arguably finest) album In The Belly of the Brazen Bull with a brilliant set on the NME/Radio 1 stage. "This is metal day so I'm honoured" laughed Ryan Jarman cheekily as the band played a set which drew heavily from their latest album, but classics 'Hey Scenesters!' and 'Mens Needs' provided the biggest cheers of the night. The already emotionally unattached Ryan (who confessed to suffering from depression and an eating disorder following his break-up with Kate Nash) did nothing to try and present himself as stable, however, as he smashed up all the instruments in a Sonic Youth-type finale.
Highlight: The guy stood next to me for the complete fifty minute set (who had clearly drank OR taken way too much) and stood, hands on his knees, looking at the floor whilst shaking his head.
Lowlight: The lack of Ignore the Ignorant, especially 'Cheat On Me'.
---
5. JAKE BUGG
The most hyped kid around, Jake Bugg shows no sign of slowing down in his upward trajectory towards stardom. Noel, Kaiser Chiefs and Stone Roses are all fans, and so is Fearne Cotton it seems, who was seen side of stage during his Festival Republic tent slot (which he packed out). He is a ridiculously good guitarist (as proven by 'Lightning Bolt') and whilst his lyrics may not be anything ground-breaking, his Johnny Cash and Bob Dylan-style vocal is something wonderfully unique right now. Get his debut album when it comes out in October.

Highlight: Jake doing his own sound-checks and setting up with his crew on-stage, cheekily waving at fans.
Lowlight: The amount of piss being thrown.
---
4. FOO FIGHTERS
"This one's for Krist and Kurt" Dave Grohl said at the start of the emotionally charged 'These Days'. The whole of Sunday night seemed like the end of a chapter for Grohl. It was Reading Festival, twenty years on from Nirvana's explosive and incredible headline set. Whilst no Nirvana songs were played, you get a sense that Grohl doesn't want to disrespect his current band or his previous leader. The set was emotionally driven with Grohl giving dedications to his two daughters and mother, before declaring it would be his last show for some time as he focuses on fatherhood. The band nailed their greatest hits three-hour set, but in truth they didn't need the three hour slot and by the end people looked like emotionally and energy drained zombies.
Highlight: Dave Grohl sharing his memories of Reading Festival and saying "Honey, I'm home".
Lowlight: The lack of hits in the encore.
---
3. THE CURE
Thirty-three years since the first (and last) time they played Reading, The Cure provided a dark and harrowing celebration on Friday night. Robert Smith's voice is as timeless as ever, and whilst he isn't a showman, his concentration is unrivalled. A three hour, emotionally engaging set left Cure fans raving by the end of the night. The encore was simply sublime, as Smith raced through 'Boys Don't Cry', 'Close to Me' and 'Lovecats'. At times the set dragged into obscurity as The Cure played lesser-known songs for large chunks at a time. But, in truth, it was a once in a lifetime moment which did not disappoint. Let's hope they don't stay away too long.

Highlight: Robert Smith's unshakable vocal. He could be skydiving and he wouldn't miss a note.
Lowlight: The set-list dipped somewhat in the middle due to The Cure's enormous back-catalogue.
---
2. GREEN DAY
"The worst kept secret in England" laughed Billie-Joe Armstrong as he took to the stage at 11am in the NME/Radio One tent in Reading. Fans had been queuing to get into the arena since 7am (before it was even announced) and the punk rockers didn't disappoint. It was a no-nonsense, sweaty, t-shirt and jeans punk rock gig. It was hectic and absolute carnage at times, with security having to corden off the tent to stop a huge crush. Their back catalogue proved that Green Day still have something to say, too, with the likes of 'Brain Stew' and 'Longview' being huge highlights and a welcome change from the new, grandiose and political concept albums. Let's hope for more of the same from their trio of albums !Uno! !Dos! !Tre!.
Highlight: The emphasis the band placed on their old songs – Dookie, Nimrod and Insomniac.
Lowlight: Billie Joe's continuing urge to be a Bono/Mercury showman wore thin. The 'I said a heeeeeyooooo's get tedious when it's not a three-hour headline set.
---
1. KASABIAN
As soon as Tom Meighan walked out in Reading, clad in leather and sporting Ian Brown-esque sunglasses, all doubt that his band would be the weakest headliner out of the three was blown away. Kasabian proved that they are one of the most psychedelic bands in the country with their light show providing a spectacle you'd expect from seasoned headliners such as Muse or U2. Their songs, too, proved that they can headline anywhere next year (even Glasto). 'Fire' was the anthem of the weekend, the melody of 'LSF' providing the huge numbers in the crowd something to sing on the way home whilst an acapella ending of 'She Loves You' provided a seminal Reading Festival moment.

Highlight: The whole set. Kasabian have been waiting for this, and they absolutely nailed it.
Lowlight: A distinct absence of 'Goodbye Kiss' and 'Fast Fuse'.
---
By James Daniel Rodger
Dance Yrself Clean