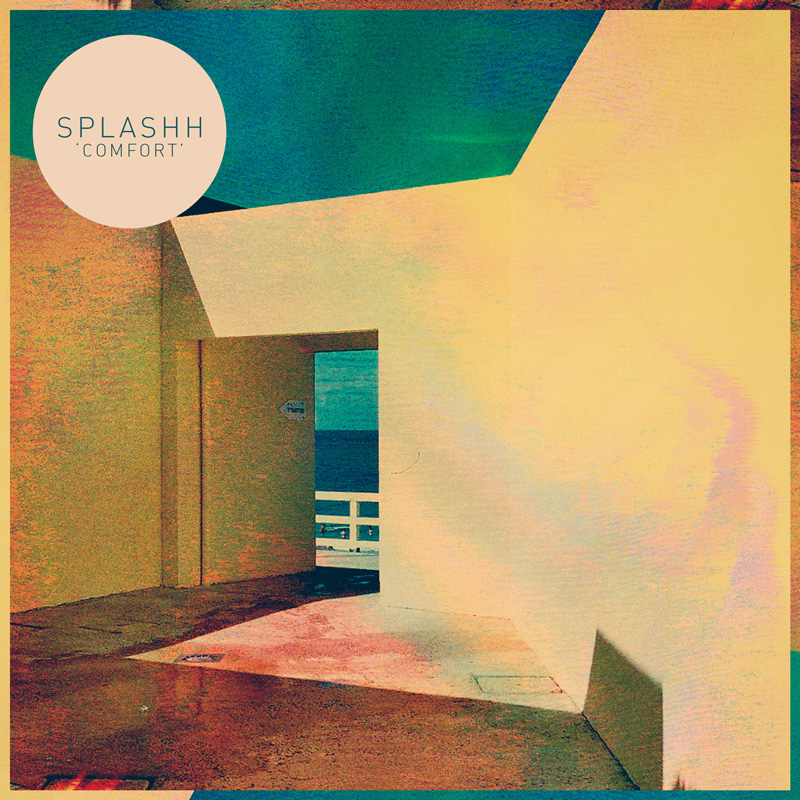 Release Date: September 2, 2013
Label: Luv Luv Luv Records
Tracks On Repeat
1. Feels Like You
2. Lemonade
3. Green & Blue
8/10
I can't honestly describe this album as anything but beautiful. It is honestly pure gorge. Comfort, Splashh's debut album released via Luv Luv Luv records, is exactly the kind of record needed just as the holidays finish.
It's hard to comprehend that the band's only been together since early 2012 considering how wonderfully executed and distinctive their music is. Released in the U.S on June 4th, but only hitting shelves here a month ago, their debut LP has an unexpectedly dark undertone, but still conveys their dreamily-escapist sound.
Their unique sun-drenched surf rock echoes through every inch of the album. Starting with the distorted scratchy guitars and bass trembles of 'Headspins', its "yeah yeah yeah"s, flowing into the "oohs and aahs" of debut single 'All I Wanna Do' with Sasha Carlson's chilled vocals generally create a swooning affect among their devotees.
Splashh's untroubled attitude and spontaneity can be found on 'Vacation' where Carlson yells "I wanna go where nobody knows" over Vivian's whooshing synths and sparkly guitar riffs. The album's a definite mix of enthusiasm and melancholic nostalgia. For instance, 'So Young' brims with energy and hope, whereas 'Strange Fruit' moans and yearns for past events: "I can't get enough of you / Cause you are the strangest tasting fruit."
'Feels Like You' is the best song from the album and the most psych-pop. Its effect, rather like swirling kaleidoscopes, always creates the image of the sun going down in my head. And maybe that's exactly what it symbolises. After all, it is an end of the summer record. With care-free synth-beats and plucky guitar licks, the emotive lyrics edge through 'You're a danger to yourself / A danger to no one else.'
Whilst many psychedelic bands are beginning to emerge, Splashh's sound can't quite be compared. Their individual combination of almost garage bass riffs and yet somewhat beach-pop guitar scratches and synths, fashion a new-unique kind of psychedlia. 'Lemonade' is one track that clearly emphasises this. This best 'non-single' taken from the album, 'Green & Blue' generates their sun-kissed fuzz, into something that reminds of teen-angst. "It was me and you, and now it's green and blue", you can just feel the lust for a loved one. These tender lyrics are laid over upbeat guitars that kind of seem like the music's almost running catch something. Another of many of their debut's highlights.
Splashh use the fact that they all originate from different countries (New Zealand, Australia and Telford – England) to their advantage with their music oozing with tropical fizz. As DIY as it gets, the album was produced and recorded in guitarist/synth player Toto Vivian's bedroom in Hackney. For some, the album was long-awaited after releases of singles such as 'Vacation' and 'Need It', but the wait was definitely worth it.

03/10 – Spanky Van Dykes, Nottingham
04/10 – East Village Arts Club, Liverpool
04/10 – The Deaf Institute, Manchester
07/10 – Brudenell Social Club, Leeds
08/10 – The Art School, Glasgow
09/10 – Electric Circus, Edinburgh
10/10 – The Cluny & The Cluny 2, Newcastle upon Tyne
11/10 – The Leadmill, Sheffield
12/10 – Simple Things Festival, Bristol
14/10 – Temple, Birmingham
15/10 – Portland Arms, Cambridge
16/10 – The Green Door Store, Brighton
17/10 – The Garage, London